Have you heard of a balance bike? It's a bike without pedals meant to allow 1.5 to 3 year olds get comfortable riding a bike. As they get older and ready to use pedals, they can learn to ride a pedal bike without training wheels.
I was not aware of this type of bike until I saw a couple neighborhood boys riding around on their balance bikes as Avery and I went for our daily walk. I could see Avery's eyes locked in with awe (okay, mine were too), which made her trike pale in comparison. Although she didn't exactly say it, her actions made it clear enough with her awkward stance….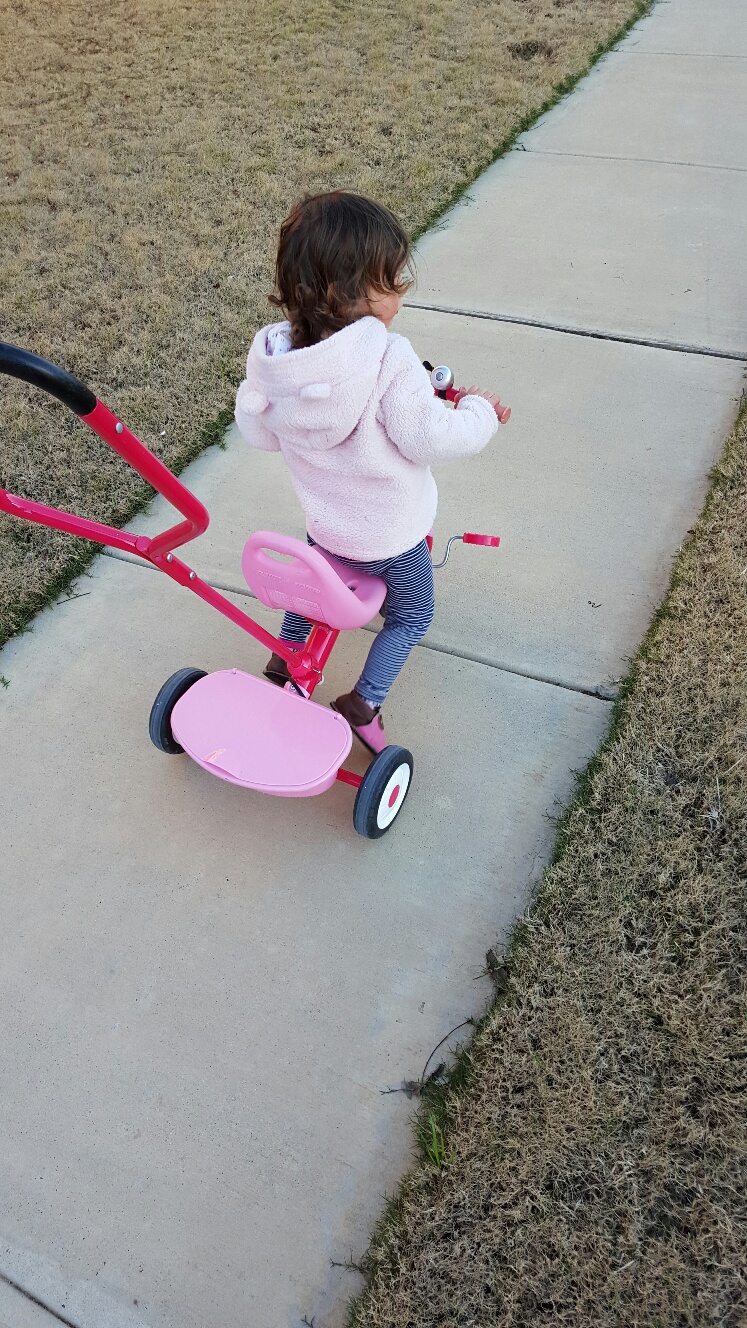 Yeah, I'm not a big fan of the pink trike either.
Luckily, after speaking with Mathias from WOOM Bikes, he graciously agreed to send me their WOOM 1 Balance Bike to use and review.  Just 2 days later, after going on our walk, Avery and I returned home to a glorious site waiting in our garage, the WOOM 1 all boxed up. Avery's excitement was obvious…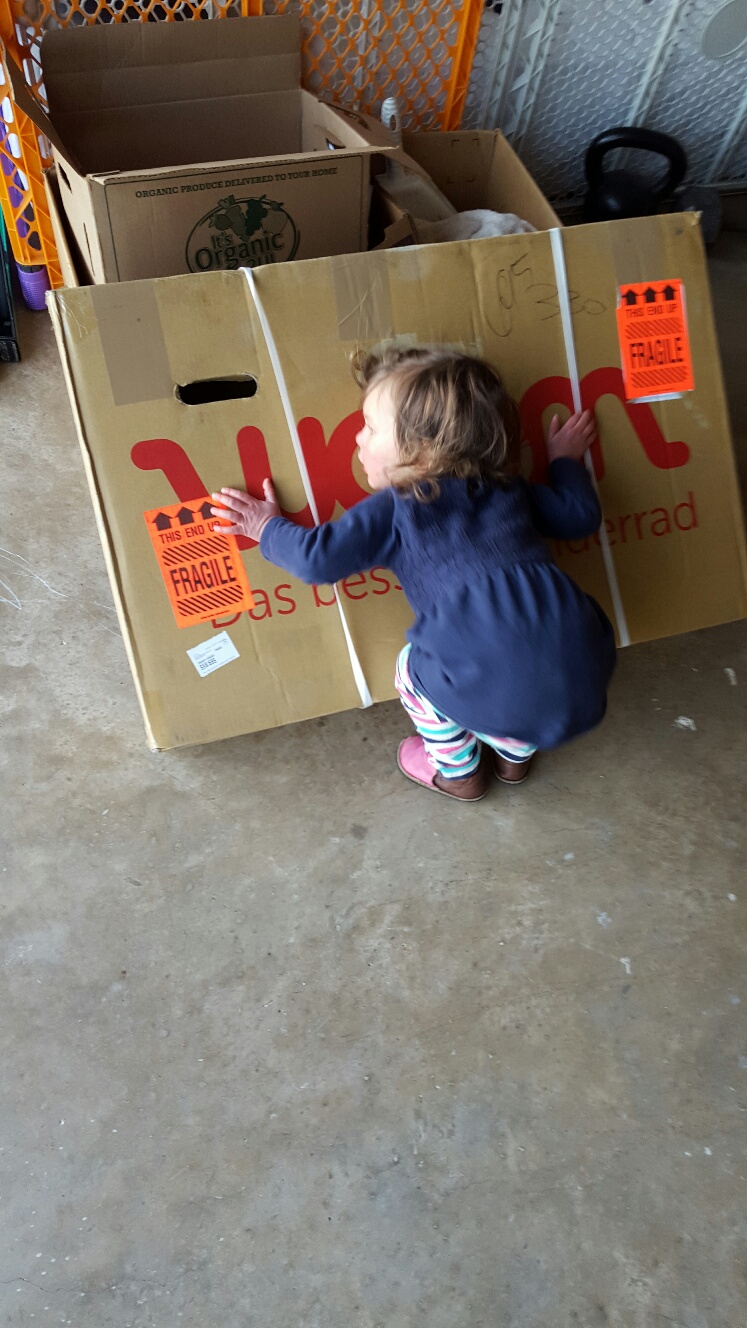 We immediately opened the box to reveal a safely wrapped shiny red WOOM 1 Balance Bike. I think someone was ready to go right away as evidenced by those little grabby hands.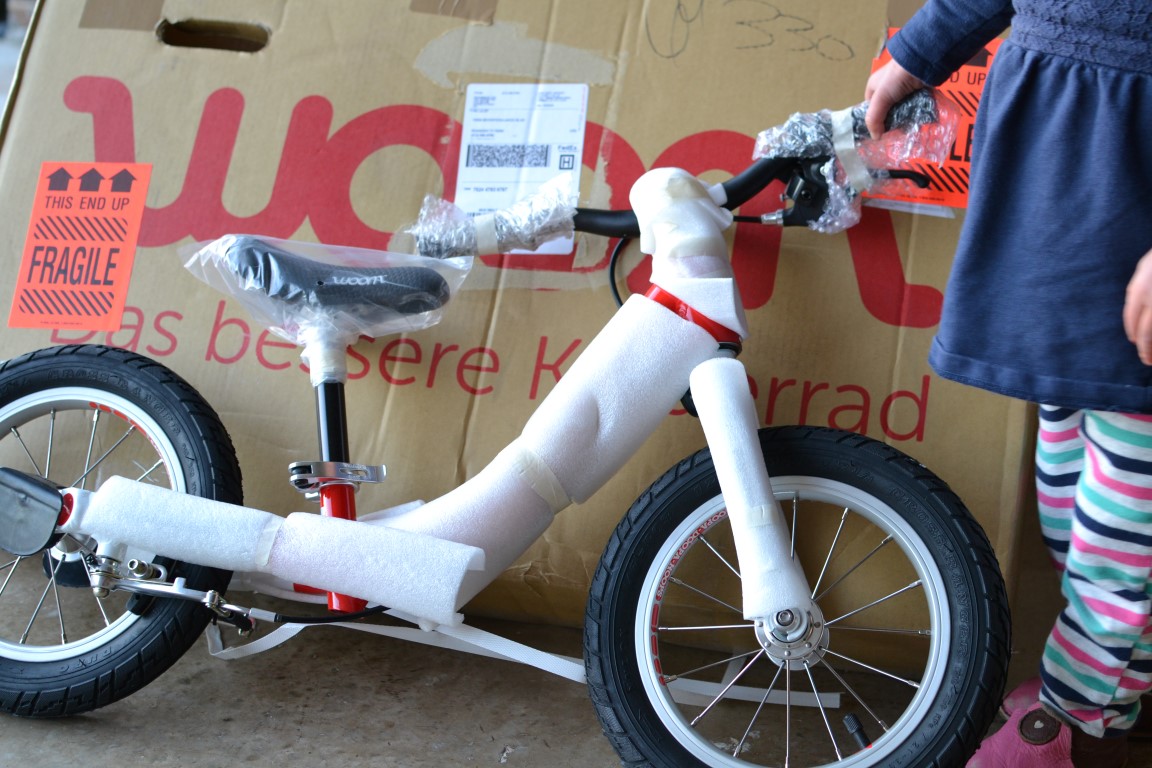 After working to fight my surprisingly strong toddler off as if she were a zombie after my exposed brains (Yes, I'm a guilty fan of The Walking Dead), I removed the foam and adjusted the bike for Avery to test. We were even sent cool blue hats that she had to wear and would not let me take it off!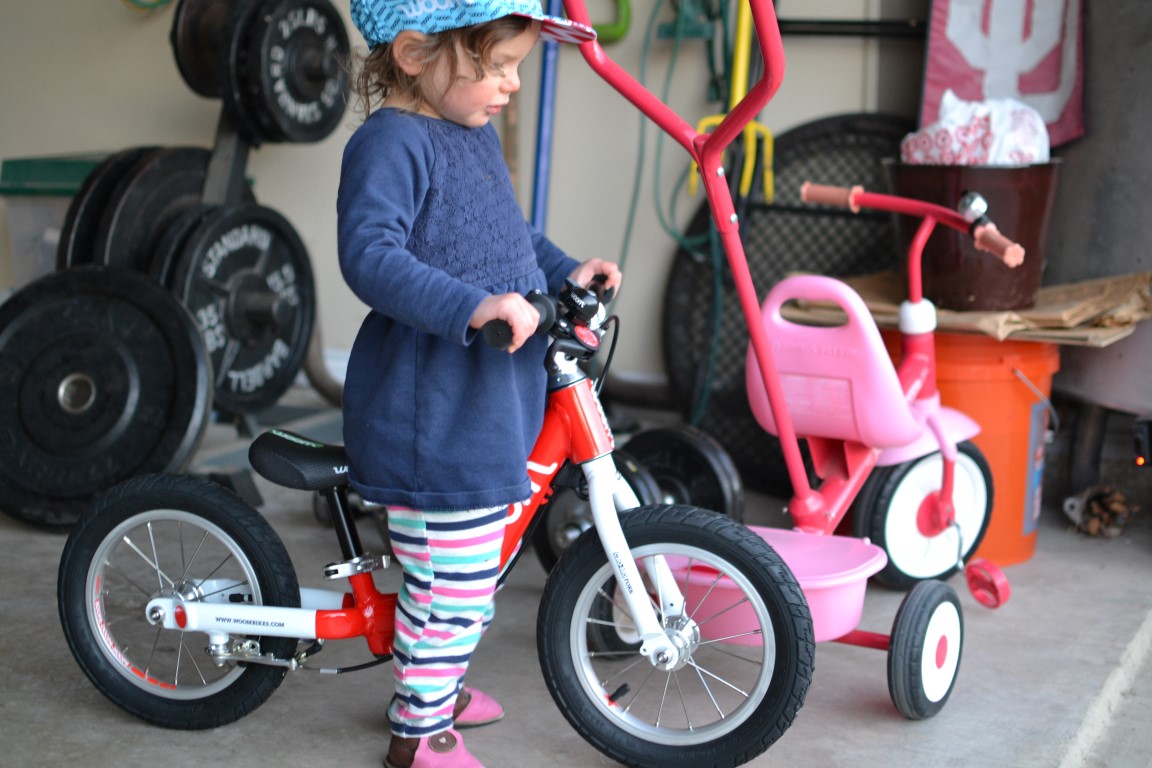 Poor pink trike in the background, it's glory days are long gone. This girl looks born to ride with her pink Soft Star Shoes and blue WOOM Bikes hat. Once on the sidewalk, she slowly started out just trying to get a feel of having only 2 wheels.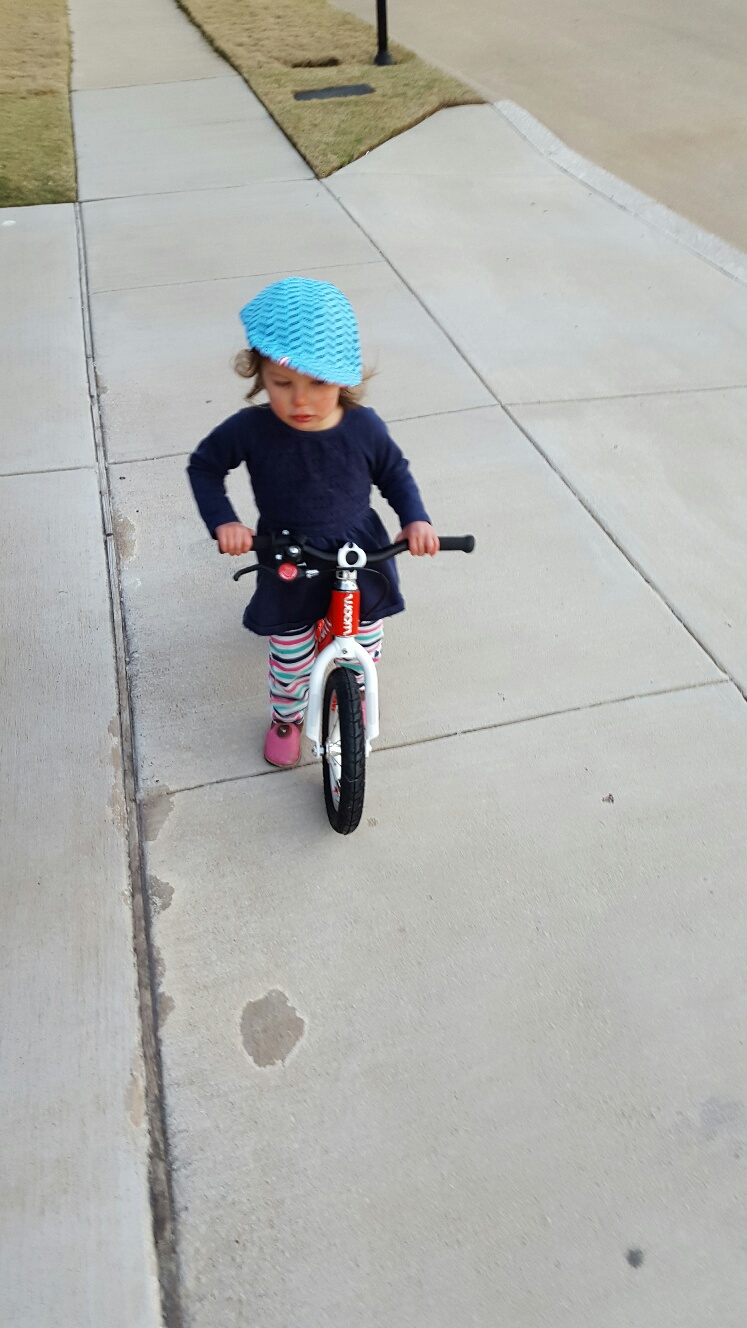 She took very tiny steps, made a little progress, then fell. After shaking off her boo boo, she tried again and stumbled over again. More crying and boo boo shaking/kissing ensued. We gave her a little confidence boosting pep talk and got her to sit back on her new bike. That's about it, she was content with just hanging for the day.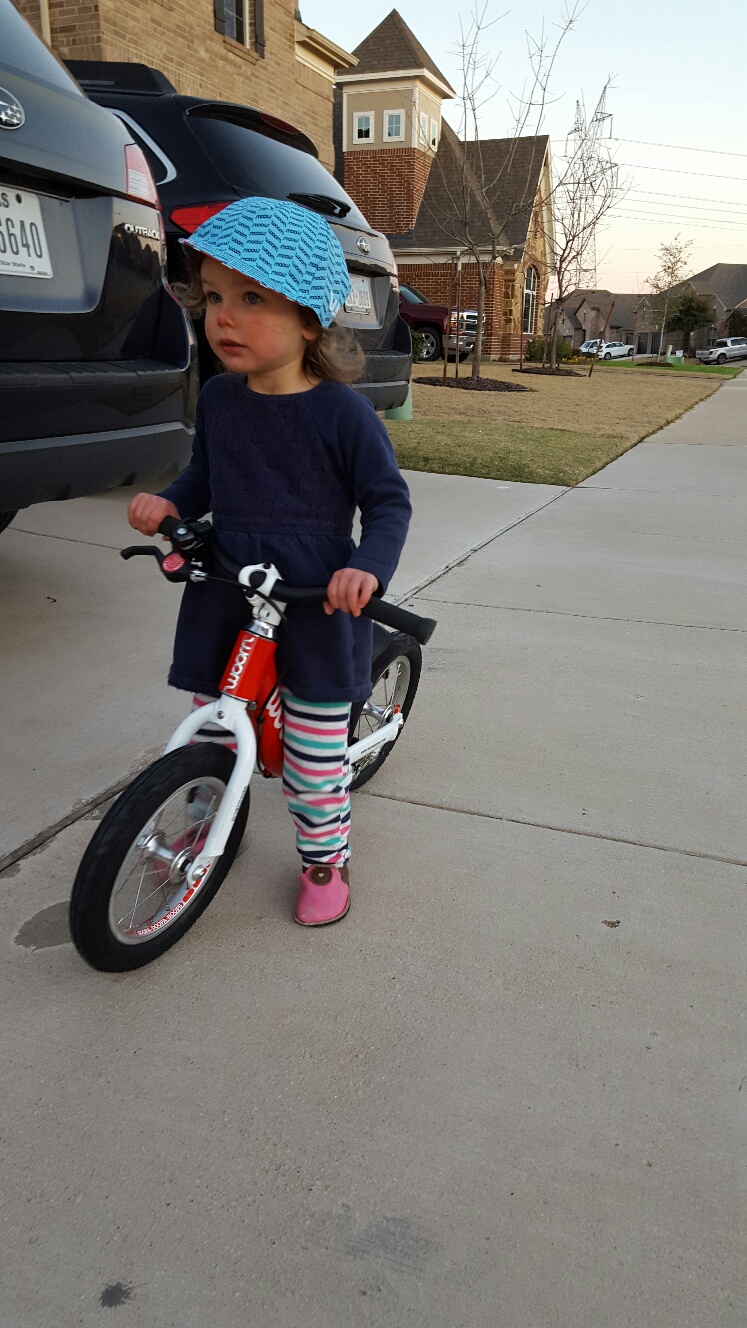 Hanging and looking cute as all getout! So, we were off to a rough start for the first day, but practice makes perfect, right?
Okay, maybe not perfect, but the next day she actually covered ground on her balance bike hog. We just need to work on her sitting on the seat and, well, we need to work on a lot. Either way, progress was made and she had fun in the process.
Patience is a mandatory prerequisite in parenting, and I had to keep reminding myself that being on a bike is something completely new to Avery. Just like rolling over, crawling, walking, etc, for the first time, it takes time, and we need to keep that in mind when our miniatures are learning.
We'll be spending plenty of time practicing this weekend and I'm confident she'll be riding circles around those neighborhood boys in no time!
I'll post updates here, on Facebook, and Instagram to monitor her progress on the WOOM 1 Balance Bike. Now we just need to find a good nickname for her bike. Lately, she enjoys watching Little Einsteins and loves the character Rocket. Since Rocket is also red, I'm thinking Rocket is a perfect fit. Yay or nay?
Learn more about WOOM Bikes and find the perfect fit for any age on their website. They have bikes for little kids just starting to walk all the way up to teens.
Have you heard of WOOM Bikes or tried a balance bike before?
Any tips on getting started riding a balance bike?
Like this post? Like cool dads such as myself? My mom says I'm the coolest! ---------->>
<----------- Please click on this cool badge to show your support and I'll give a virtual high-five if you do!