We've gone a few weeks since our last torturous teething episode, so I guess we were due for another one eventually. It's difficult to prepare for these things as we never know the severity of one teething incident to the next. but shrill crying is almost ALWAYS expected.
Okay, crying, drooling, change in eating habits, extra fussy, and tired are others to expect as well. But this time, Avery has been running a mild fever which, although common for teething, is never fun.
Is it actual sickness, or strictly from teething? All we can do is make the best guess from her body language, and looking in her mouth which is no easy feat!
It started on Wednesday where everything seemed normal in the morning. Avery shot me her mean face as I scurried to make her breakfast. She's a demanding one, even shaking her fist!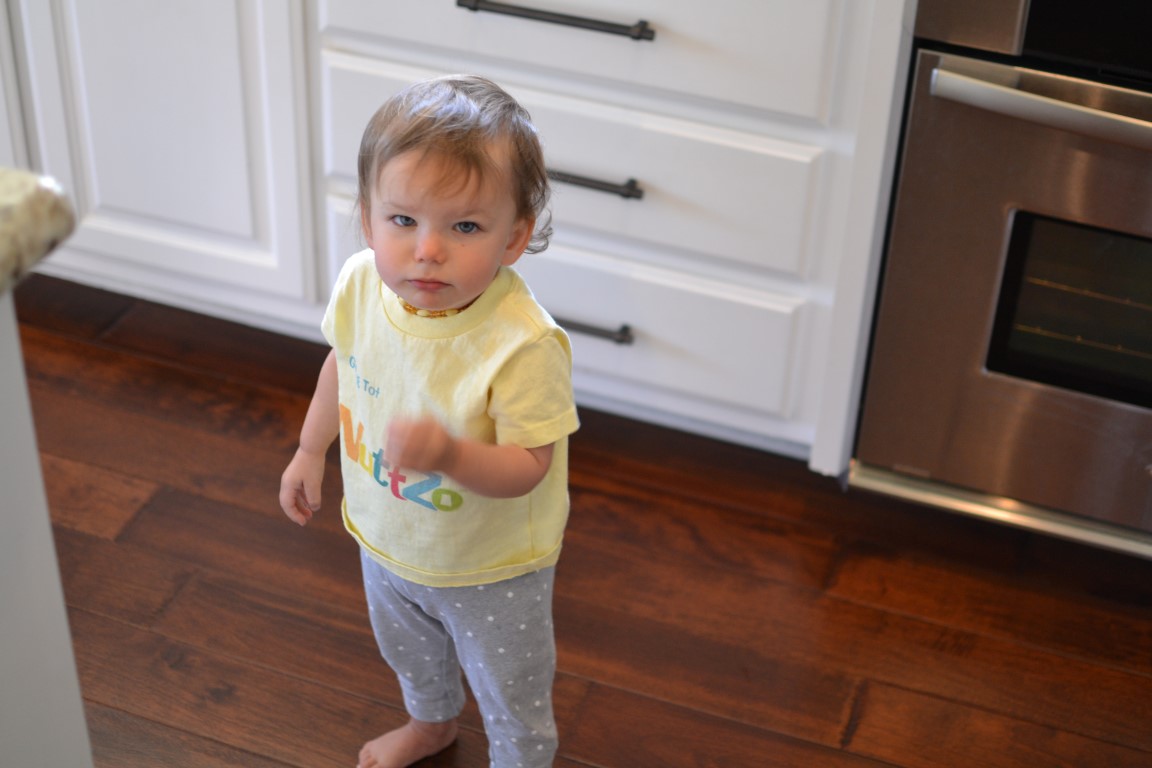 I moved quick and fed her a fresh batch of NuttZo Banana Bread which helped turn her back into cute-face Avery.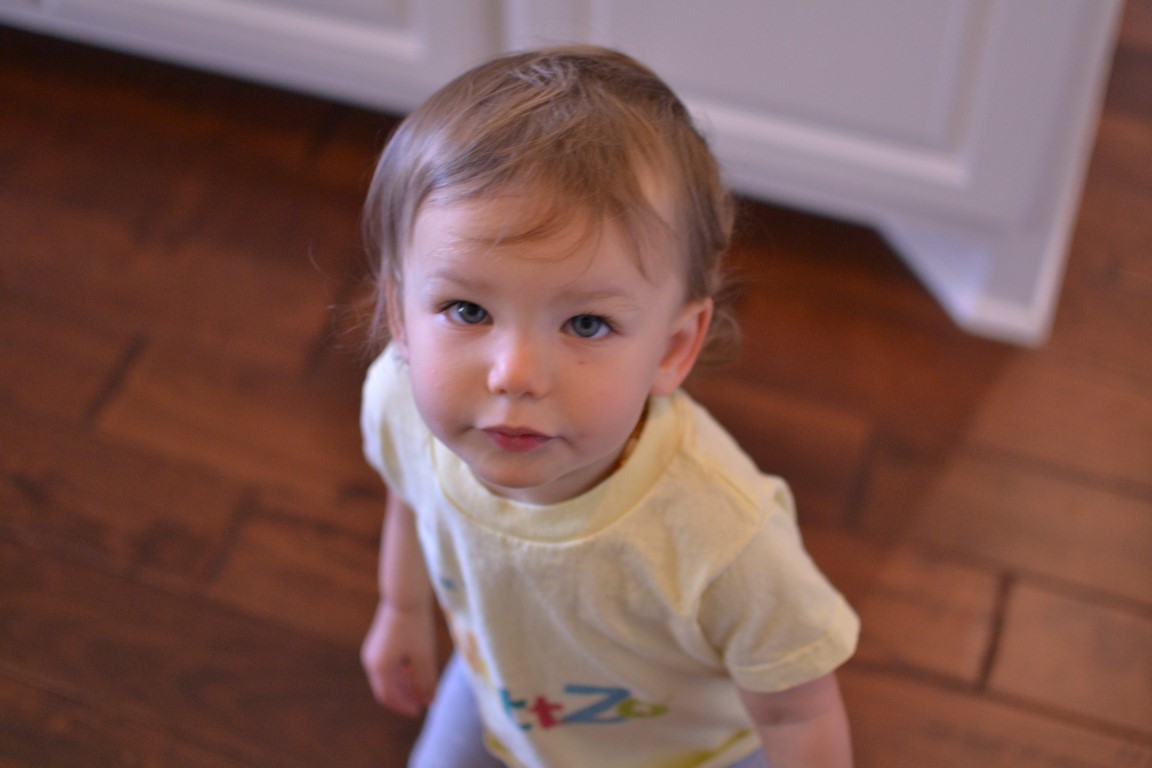 We carried on with our day by going into the garage for a workout and then went on a walk/run with our Golden, Abby, around the neighborhood. We stopped at the neighborhood playground so Avery could romp around in her new Soft Star Shoes and, of course, proceed to remove all of the mulch from the playground.
I tried to turn it into a game to get all of the wood pieces back into the pit, but she didn't care to play. After playing the antithesis of my game for 20 minutes, we strolled back home for lunch and naptime.
As I prepared lunch, Avery started acting odd by not being very vocal. I waived it off as just being tired after catching her doing the all-to-common eye rub.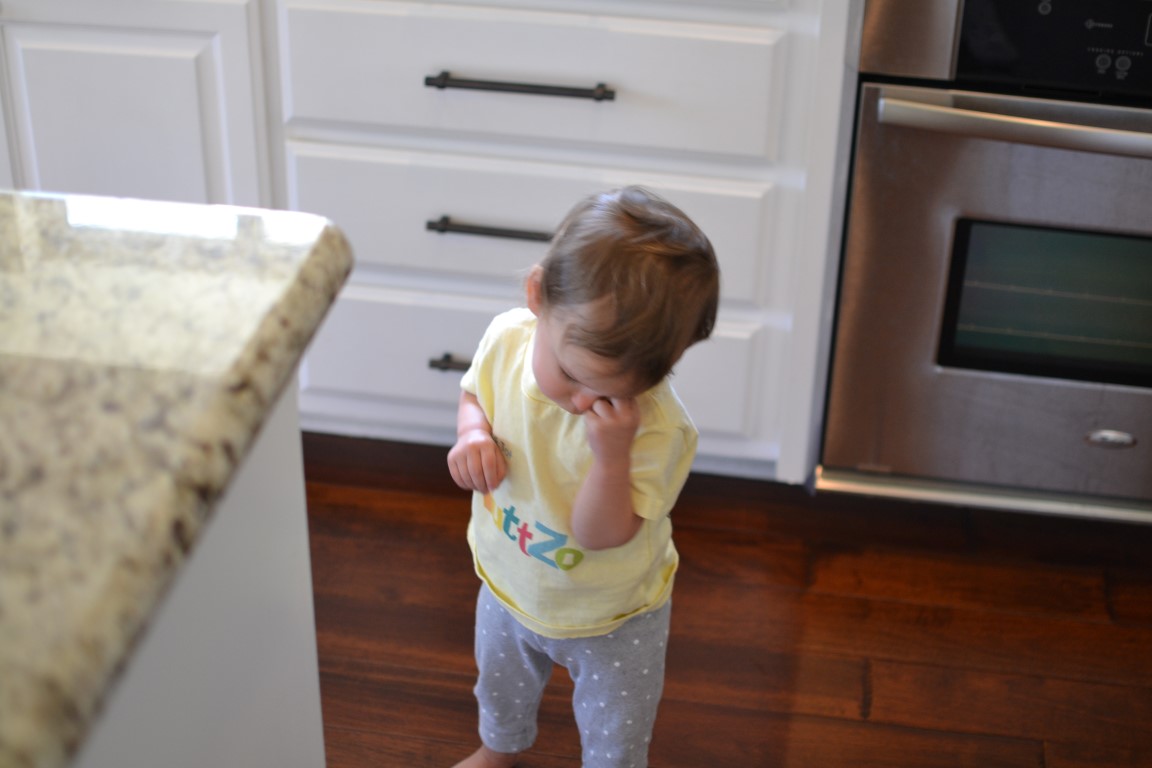 But then, her mood turned and I could do nothing right. On top of that, after struggling to get her to eat something, a major teething symptom appeared….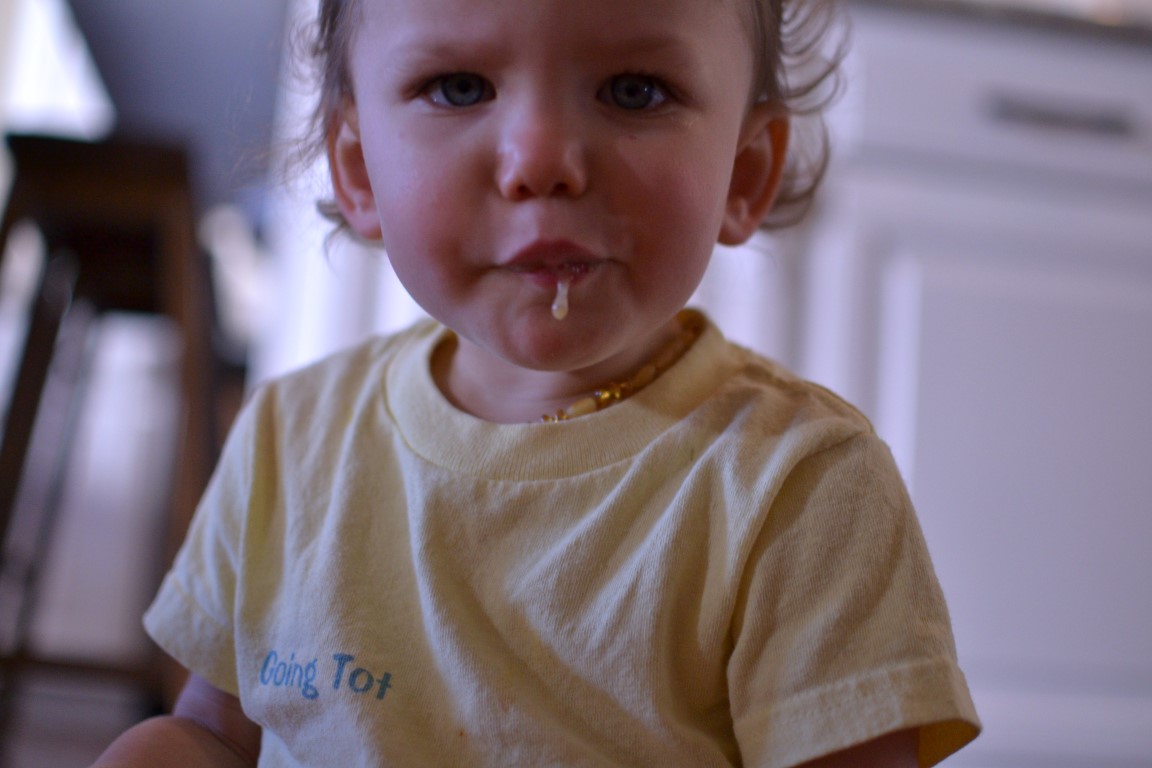 Cranky slobber girl came out to play drive me insane! She took a few more bites of lunch and finally just straight up refused anything else. Since this is when I am trying to make my own lunch as well as dinner for Going Mom and myself, I threw what meal I could together and took Avery to get her down for a much needed nap.
She hasn't fallen asleep in my arms for naptime in a long time (she does for my wife and that damn magic boob though!), but she was exhausted and fell into a slumber within 5 minutes. I laid her in her crib where she slept without a peep for almost 2 hours. Another oddity as of late.
I had high hopes that after getting some rest, she'd be all honky dory again. And when she flashed a grin like this right upon waking, I felt we were in the clear.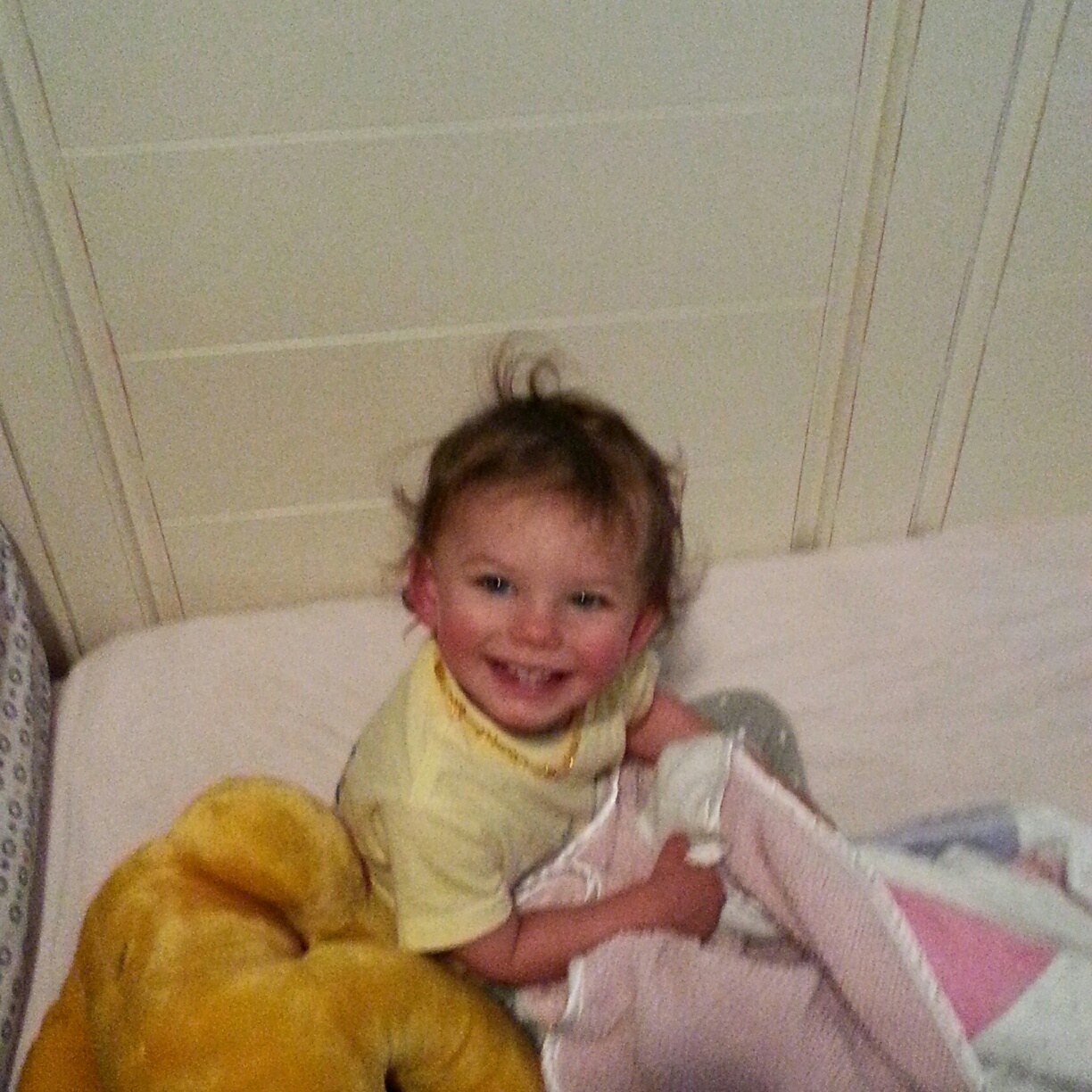 We went to the kitchen for some water and a snack before going on another walk. The first sign that she was still not her usual self shined through as she held her sippy cup while rocking her crazy after naptime hair. Her face makes it obvious that something is not right. But, still freakin' cute, huh?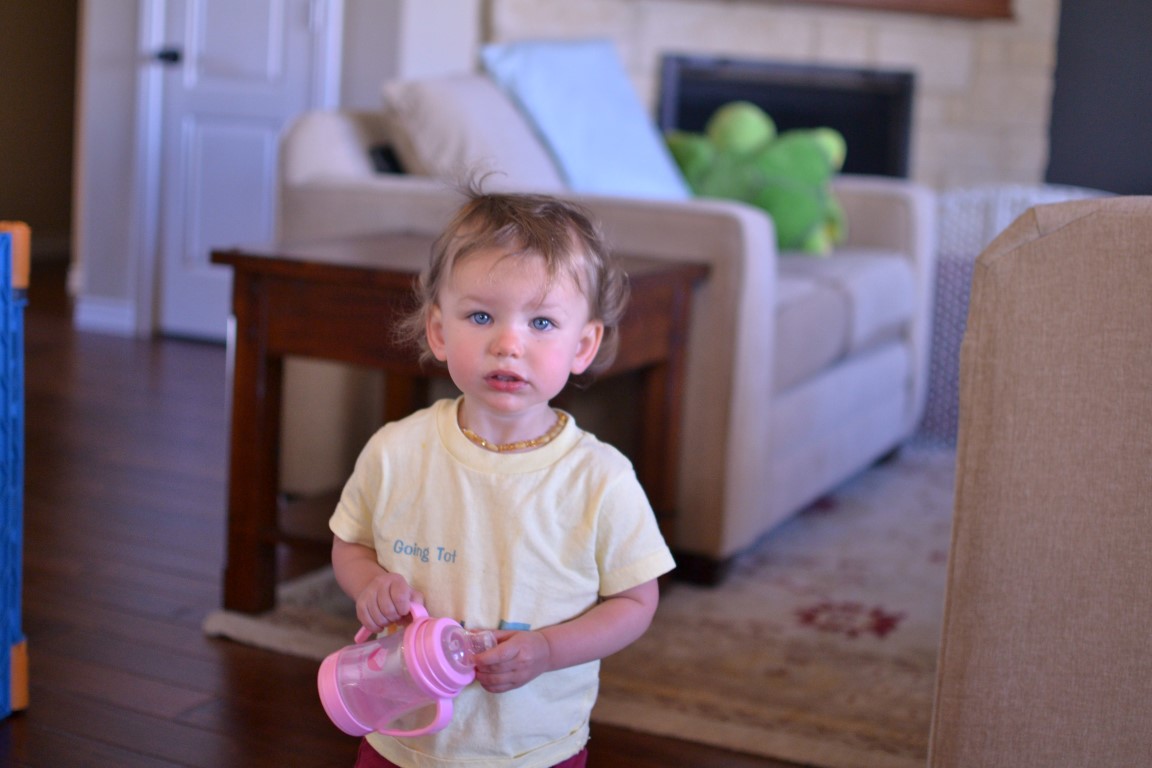 On top of this, Avery felt very warm and still was having trouble eating anything. I gave her small bite of chewy chestnut which she usually eats pretty well, but she kept that thing in her mouth for a solid 20 minutes! Yep, one little chestnut and she held it there like a Russian hamster (that's for you and Hammy, Gary!) hoarding its food.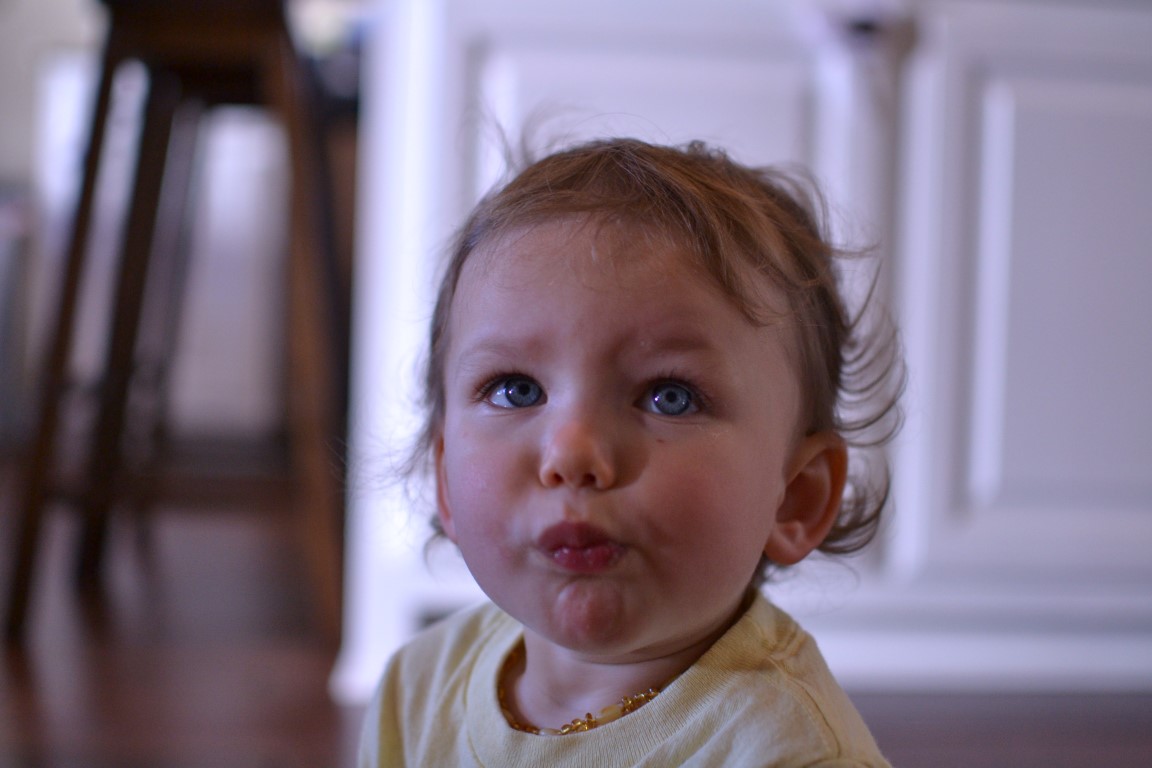 Those cheeks!!
Once Going Mom came home from work, she took Avery's temperature and confirmed she had a mild fever of around 100°F. The rest of the evening was spent with Avery going back and forth from happy to crying, to pissed at the world, to "lights" (she stops everything to point up at lights), and back all over again.
After dinner (another struggle) and a bath, Kelley nursed Avery to sleep where she didn't make a sound all night. The good thing about this is that it broke a 4 day streak of her pooping after going to sleep, the bad thing is that this meant she must really feel bad.
The next day, Avery woke up with her fever gone and in a seemingly chipper mood. Kelley sent a text asking how she was and not seeing signs of fussiness or difficulty eating, I said all was well. During our morning workout, I sent her a pic of Avery swinging her kettlebell as if peace had been restored.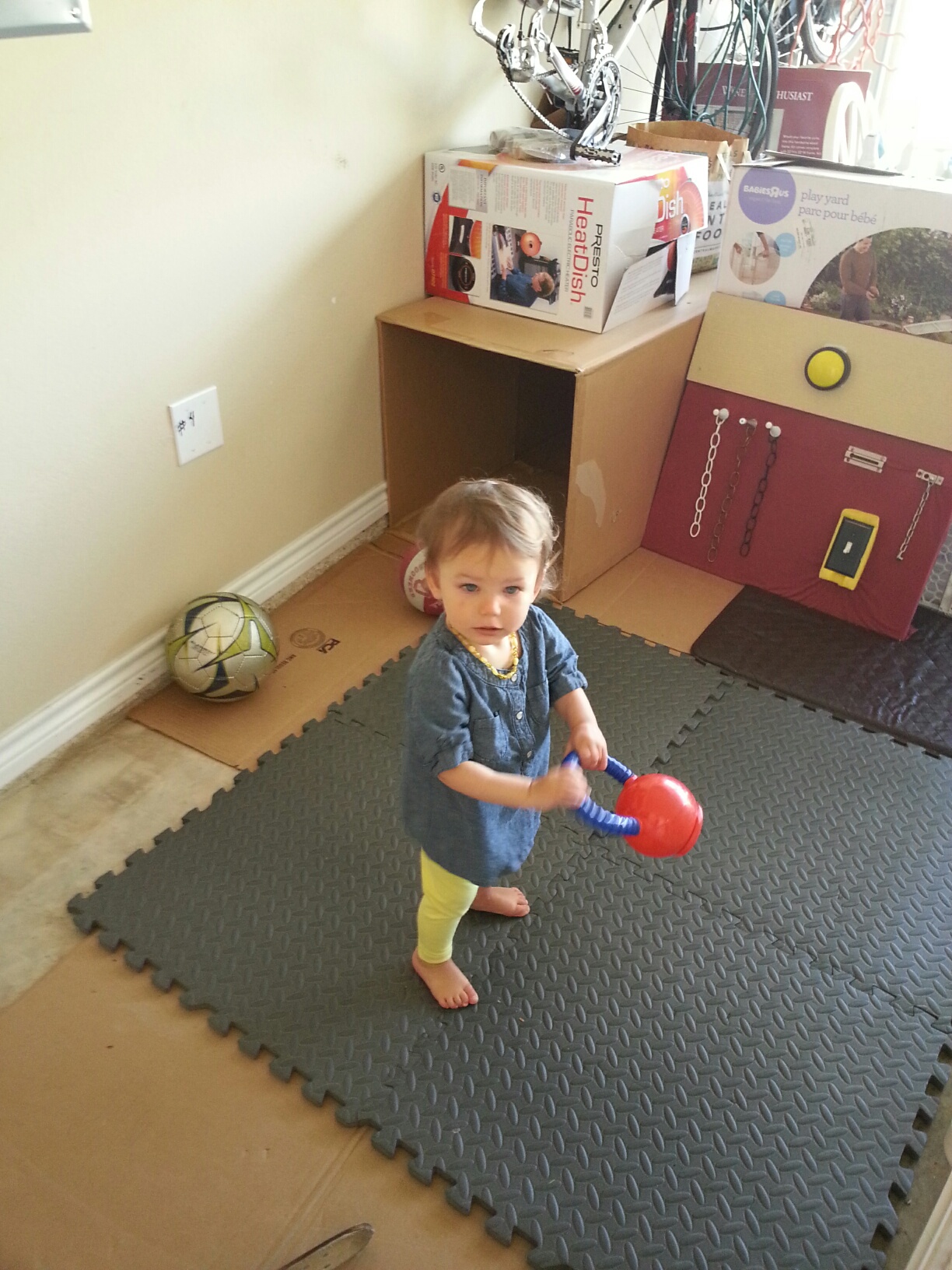 Silly me, I was so WRONG! We went to Sprouts after our usual walk/run and while wearing her inside the store, the cranky slobber girl returned!
Her cries radiated throughout the aisles as I quickly tried to remember why the hell I even came to the store. My memory returned and I grabbed what we needed (and some of what we didn't need) and drove back home.
For the next hour, Avery sat at my feet, crying loudly, as I tried to feed her and rush around the kitchen to put meals together. Poor kid, I tried holding her and pacing around and could feel the heat radiating off of her body again.
She wouldn't eat much, but drank water and more breast milk than she's had in a while. Avery fell asleep in my arms again, and I'm positive I could've played the trumpet in her face and she would remain asleep. Don't worry, I don't have a trumpet, and I'd probably just end up spitting into the thing without a sound being produced.
My loving wife dropped everything the second she got home and I told her the fever was back and took our happy girl away. Avery simply would not allow us to stop holding her. Kelley held her for the rest of the day as I cleaned and prepared dinner. But dinner was not had as Kelley just wanted to get Avery to sleep and held her as she nursed the poor girl to sleep.
It was a sad, quiet night, with this being the first fever-induced sickness we've experienced with Avery. Her temp got up to 102°F and her eyes were heavy all evening. At least Going Mom and I took the requisite parent with sick kid selfie and posted to social media.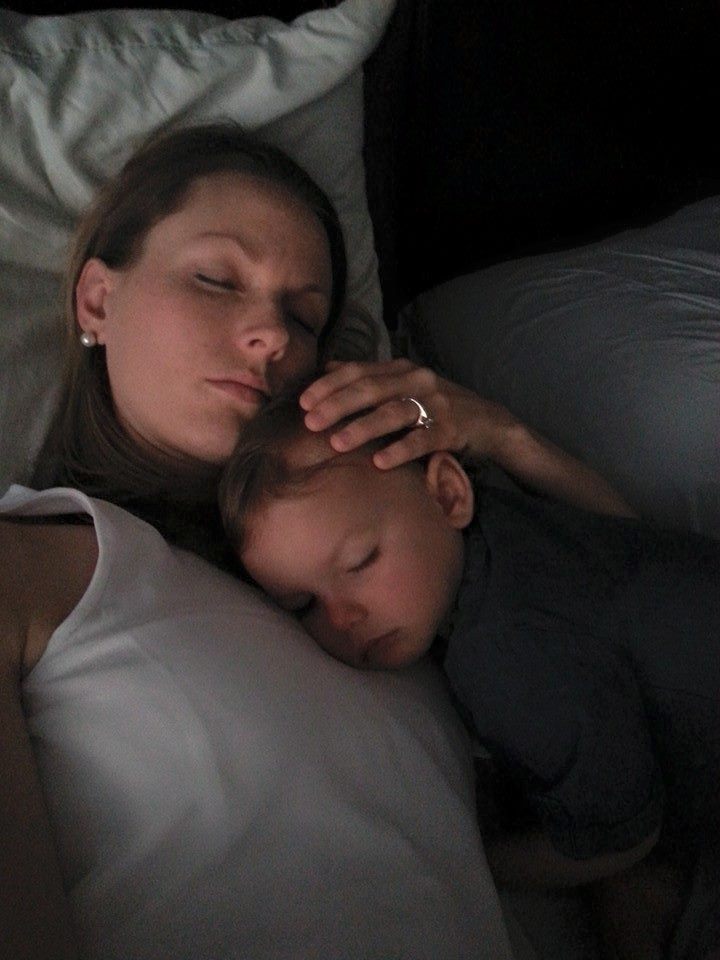 After laying her in the crib, Kelley came out to eat dinner with me and we tried to watch a Walking Dead episode. Not 5 minutes into it though, we see Avery just sitting up in her crib. Silent, but just sitting there as her body slowly waved around.
After another 5 minutes of her still sitting, we went in and discovered problem, she threw up. I managed the sheet changing and diaper getting duty while Kelley cleaned Avery and changed her clothes. Kelley once again held Avery to comfort her to sleep as I came out to write this post. We decided to postpone watching zombies for the night since parenting comes first. Oh, and it's on Netflix so we can play catch-up after Avery is well again!
Maybe I'll happily report she's back to her old self flashing smiles and eating better in my next post. Fingers crossed!
How do/did your kids handle the woes of teething?
Were they sudden or gradual signs?
Like this post? Like cool dads such as myself? My mom says I'm the coolest! ---------->>
<----------- Please click on this cool badge to show your support and I'll give a virtual high-five if you do!