Amazon has launched a photo printing service that allows all customers to print their memories. Prime members can upload images to their Prime Photos account, print the product of their choice, and receive free delivery. If you're not a Prime member, you'll receive 5 GB of storage free on Prime Photos and be able to print your favorite photos. Prints start as low as $0.09.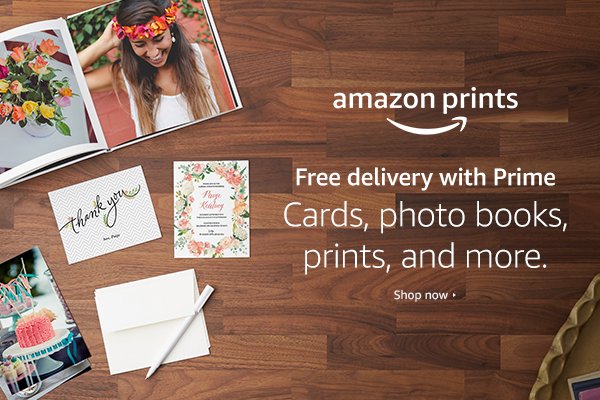 I remember, when growing up, we'd have to use up a roll of film, then drop it off at a photo center, and then wait up to three days just to get them back. I'd eagerly sift through each picture hoping they turned out, but that was rarely the case. It ended up being 3 or 4 good pics out of the standard 24 picture roll of film.
Doing this several times quickly added up in cost when you consider paying for a new roll and then having the photos processed. Any special services like photo books, large prints, or cards, meant more money and more time waiting.
Thankfully, services like Amazon Prints makes the entire photo printing and storing hassle-free You can pick out the pictures you want to print and save or delete the ones you don't. Even customized photo printing to create calendars, canvases, and other photo gifts is easy and affordable with Amazon Prints.
Give it a try to give yourself a break when it comes to photo printing, I'm sure you'll be satisfied with the end product. For a little incentive, how about the chance to win an Amazon gift card with the 1st prize being $500? It's easier than using Amazon Prints to enter, so why not give it a try?
Good Luck!
Thanks to Amazon for sponsoring this post and providing prizes for the giveaway!
Amazon, Fire and the Amazon Fire TV logo are trademarks of Amazon.com, Inc. or its affiliates.
Like this post? Like cool dads such as myself? My mom says I'm the coolest! ---------->>
<----------- Please click on this cool badge to show your support and I'll give a virtual high-five if you do!