Valentines Day is fast approaching! Do you have a gift for the love in your life? If not (sorry, mom and wife), don't fret, PicturesOnGold.com has the perfect gift to be cherished for years to come. A personalized Sterling Silver "Sweetheart" "Cascade of Hearts" Heart Locket. They will take your adorable photo(s) and use advanced laser technology to engrave the pictures onto gold and/or sterling silver photo lockets and charms.
As is, this Sterling Silver "Sweetheart" "Cascade of Hearts" Heart Locket. makes a delightful Valentines Day gift for any friend or loved one. But add your personal touches with clip art and engraving options from PicturesOnGold.com along with your own pictures, and you'll have a unique gift that's sure to warm anyone's heart.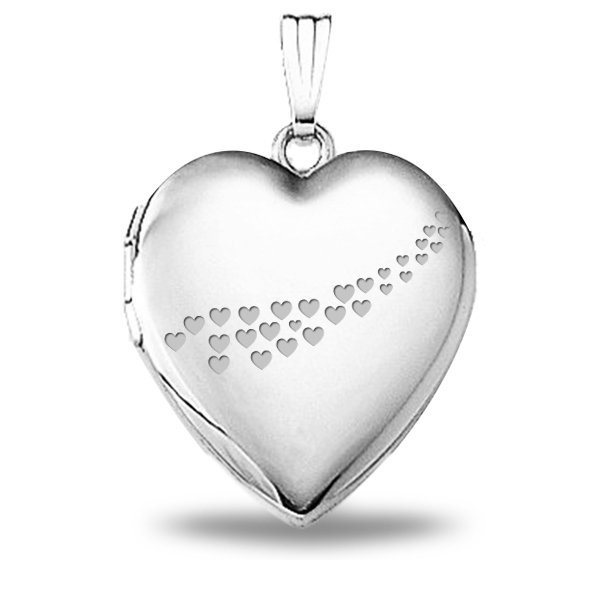 Sound good? Thanks to the kind people at PicturesOnGold.com, I am able to offer one of you the opportunity to win your own Sterling Silver "Sweetheart" "Cascade of Hearts" Heart Locket. This .925 Solid Sterling Silver Locket has a cascade of hearts engraved on the center of the front side. It holds 2 photos with engraving options on the reverse and inside. The locket will come with an 18 inch Sterling Silver Box chain with a lobster claw. Total Value is $155.90. Please note it will not be shipped until after Valentines Day.
Just follow the directions below to enter to win. The giveaway will end on Valentines Day, that's February 14, 2017 for the uninformed. I will announce the winner soon after.
PicturesOnGold.com offers several uniqe and elegant gifts like bracelets, rings, dog tags, and even medical ID's. All perfect for a sports fan or recent grad. To learn more about what they have to offer and stay up to date on specials, visit their website, follow them on Facebook, Pinterest, Instagram and Twitter.
Like this post? Like cool dads such as myself? My mom says I'm the coolest! ---------->>
<----------- Please click on this cool badge to show your support and I'll give a virtual high-five if you do!