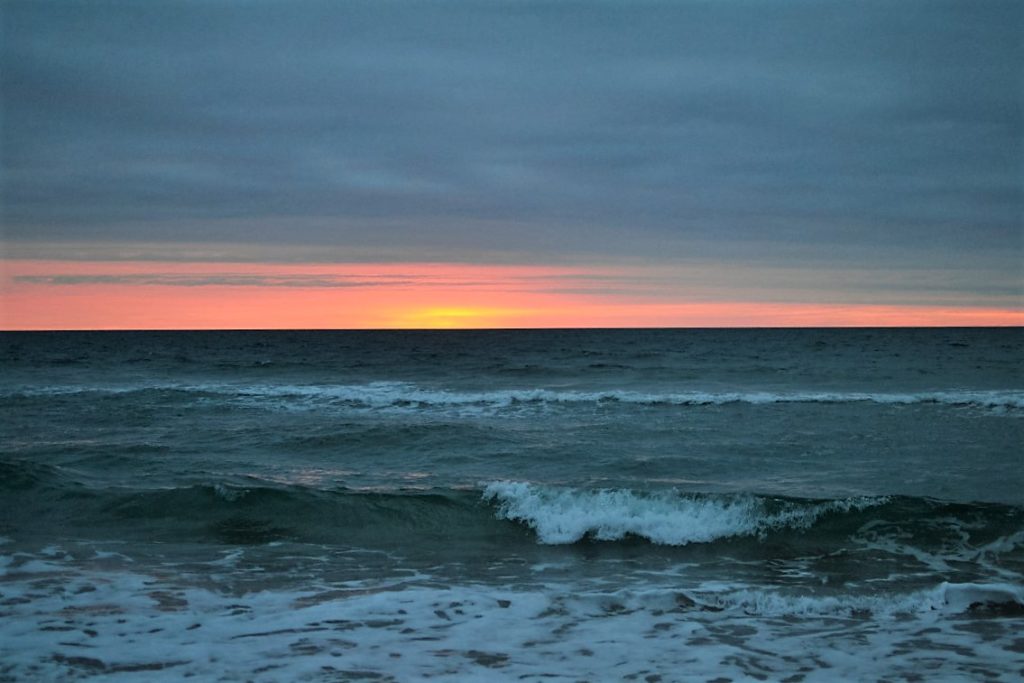 Have you ever woke up early to watch the sunrise? What about the sunrise over the ocean? As a kid, when at the beach, I always aspired to wake up early before everyone else for first dibs on seashells that washed ashore overnight. Watching the sunrise would be an added bonus as I collected fully intact conches and starfish normally only found in stores.
My aspirations never turned into reality though. As the chubby kid I was, I lacked the discipline to actually wake up that early. But now, years later, I happened to naturally wake up before 5 am and decided to head to the beach.
My childhood memories of thinking I'd be the only one on the beach stuck with me as I walked down to the ocean. Those thoughts quickly faded as I found several groups of people walking the beach in search of shells as they waited for that burning ball of fire to rise above the horizon. And those store-quality shells waiting for me to find them on the sandy shore? Negative. But I met this guy who popped out of his hole.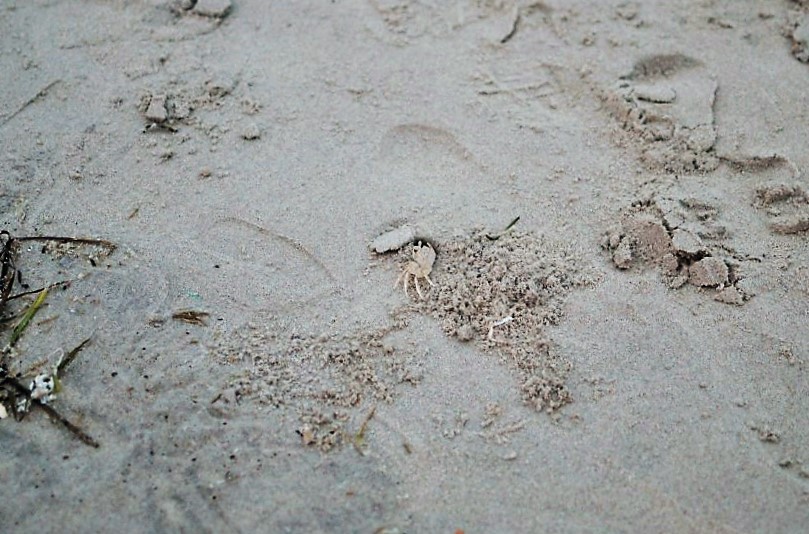 I thought he was coming out for a friendly "Top O'the mornin to ya!" greeting, but turns out he was being a little crab. *bada-bing*
Despite the lack of shells and peaceful isolation, the early waking was well worth it as the bright yellow-orange crested the ocean horizon.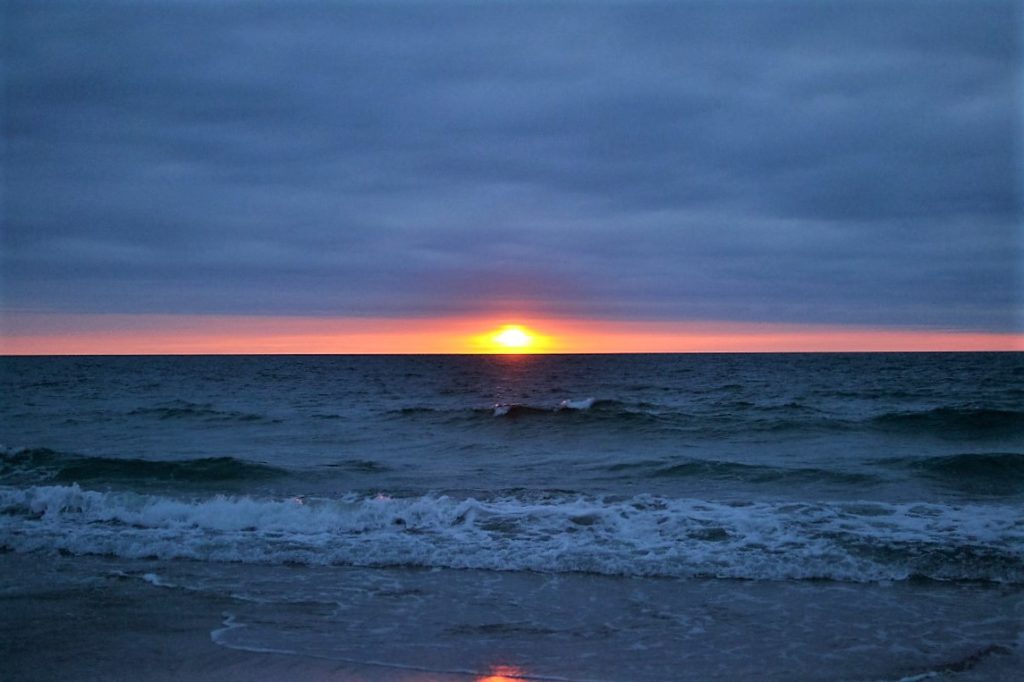 It didn't last long as the sky was covered in gray clouds, but those few minutes were glorious.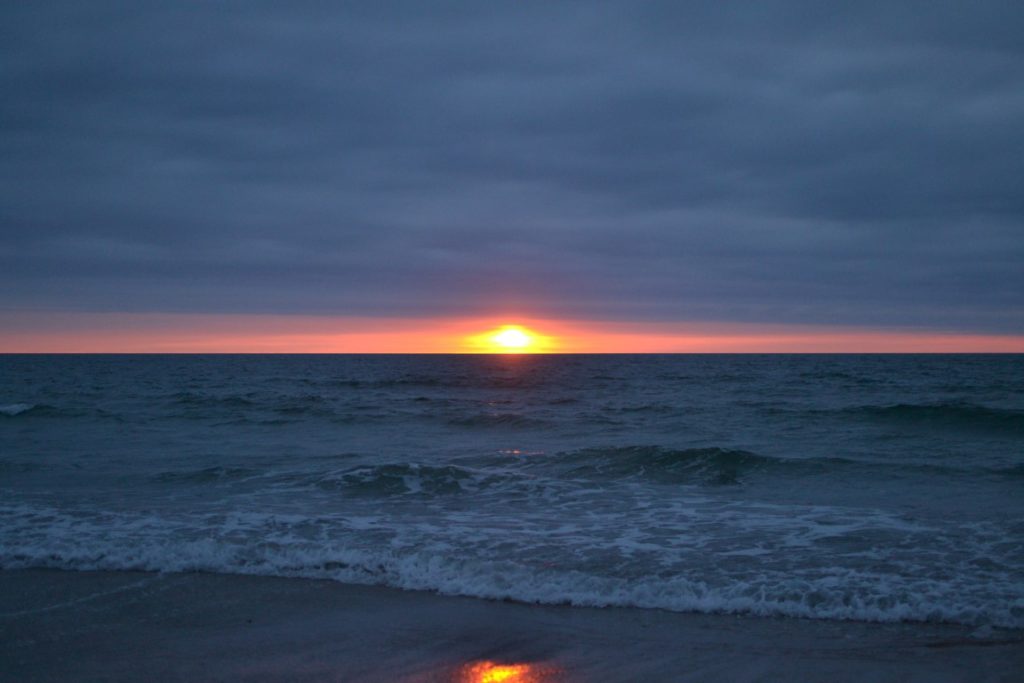 With part of my childhood dreams accomplished, I still had a couple hours before anyone would be making like the sun and rising for the morning, so I walked the beach a while longer. I received a surprise text from my wife asking if I wanted to go for a walk. She didn't know I had already been up and out, but I would never turn down a nice walk with my wife.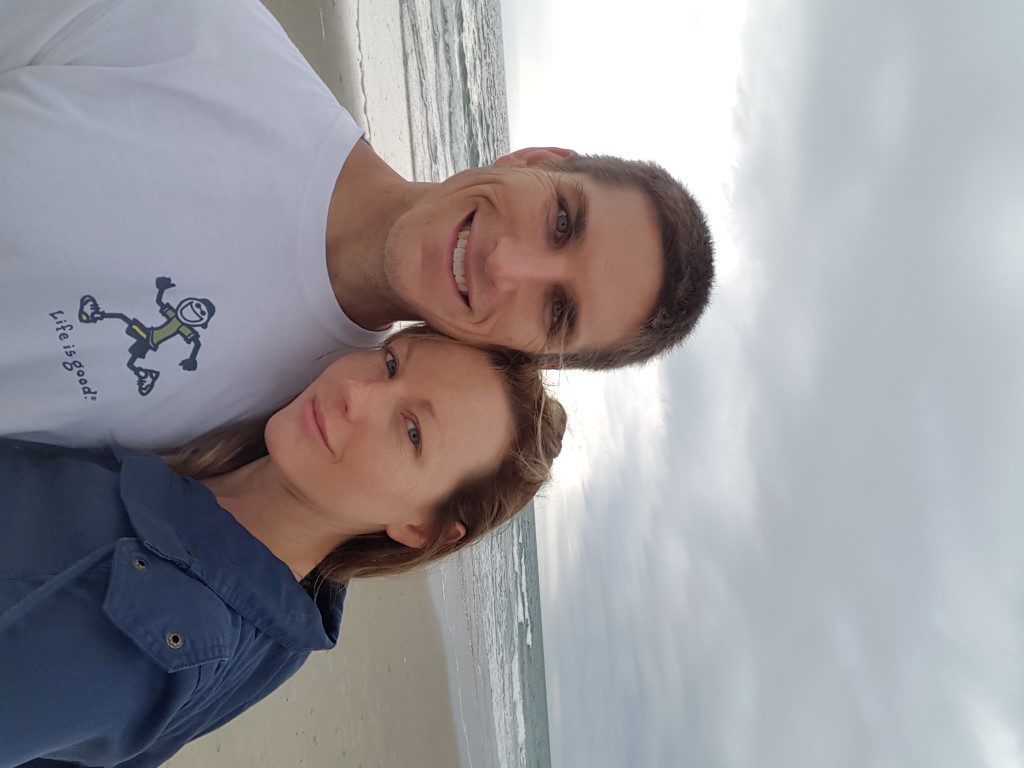 Going Mom made the morning beach experience a million times better, and I even got a kiss out of the thing!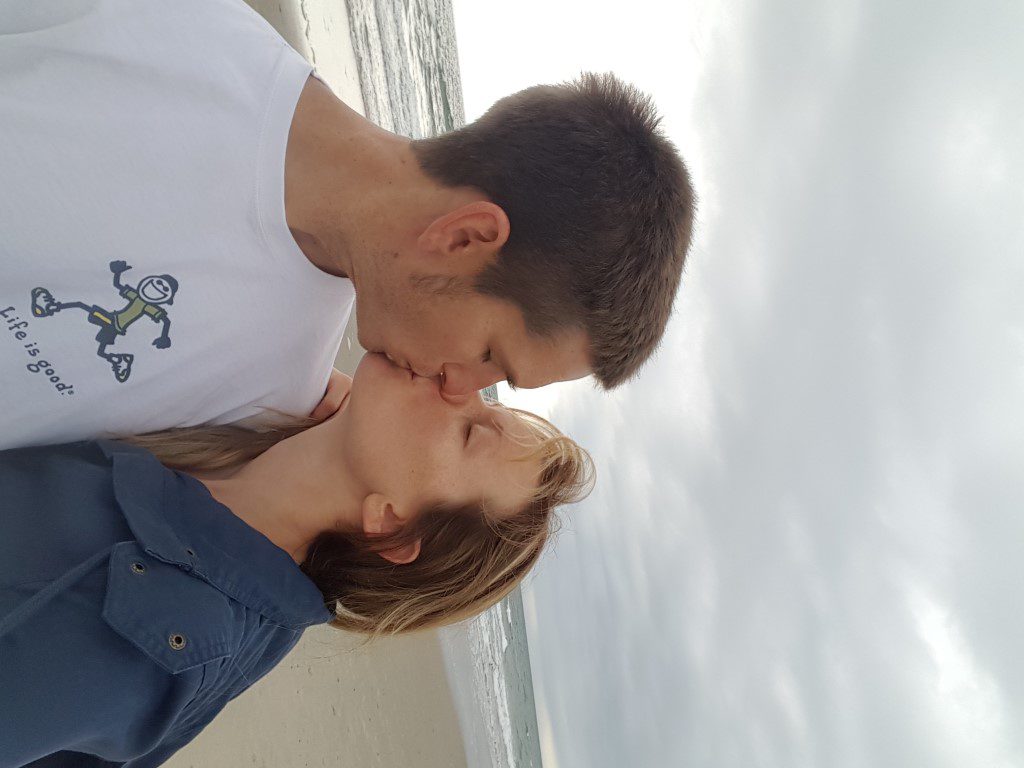 Glad she doesn't care about bedhead. After our romantic stroll along the ocean water, we stopped at one of three coffee shops within the area, the Outer Banks Coffee Company. If you're in the area, save your cash, the place did not impress. It looked all cool and done up inside, but when I get a styrofoam cup, I'm instantly turned off from even the best brew. It wasn't that bad tasting (we drink it black), so maybe bringing your own mug would be a good option. We didn't pack our mugs, so that was the only time we tried the place.
Back at the beach house, after our normal morning routine and breakfast with a toddler, it was past noon. After my ocean kayaking experience the day before, I was itching to get back on the water in our sit-on-top vessel. The waves were throwing another fit that day, and I wanted to bring the girls out with me which would not be safe in the ocean. Luckily, that turtle pond we hiked around was large and calm enough for the perfect first time kayaking as a family.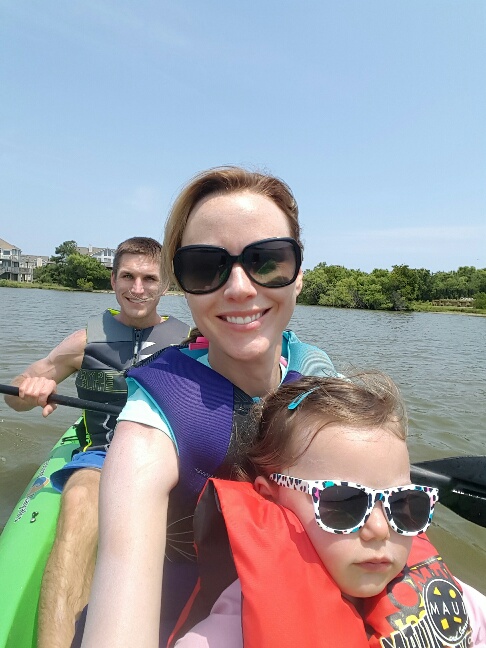 Kelley kept a safe hold on Avery while I acted as a human motor. I expected Avery to be more excited than she showed, but I blame most of that on the oversized life vest pushing into her face. That didn't stop Mommy from taking the obligatory selfie.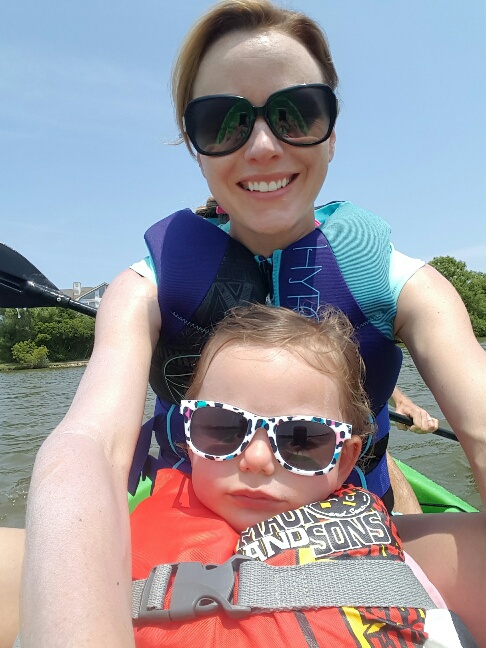 Somewhere, behind those cool shades, our daughter was fiercely striving to keep her cool and not let her excitement show, I just know it! Either way, I enjoyed getting out as a family and creating another first for Avery. At least Mommy and Daddy were happy.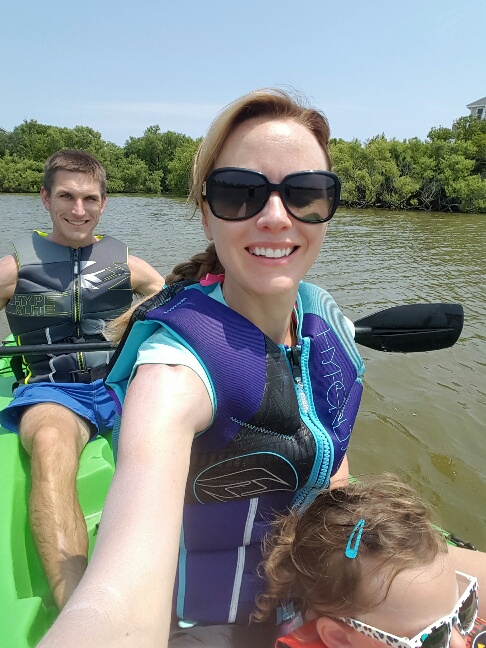 G-Ma, my mom, and Uncle Paul and Aunt Tammy all party more than Going Mom and I. Probably because they did their time with little kids and are enjoying freedom once again. So while we'd stay at the beach house, they were out doing things during the day and night. But today, the fifth day of our trip, we planned on going out for a family dinner somewhere nice.
After scanning the available places that would be most acceptable to the picky foodies (my wife and I), we settled on The Paper Canoe. We had actually stopped there on the drive in with Avery screaming about having to go pee and not wanting to let us down by going in her Honest Company training pants. The waitstaff were all happy to help our child in distress that day, so at least we knew they were nice.
When you're extremely particular about how food is prepared and where it's sourced, you should call the place ahead of time. Tommy, who happened to be the owner, kindly answered my call. After explaining how I prefer to have no added oils when cooking, but really really really wanted scallops along with a side of steamed veggies, he was nothing but happy to accommodate my requests. This, in turn, made for a wonderful dining experience for all.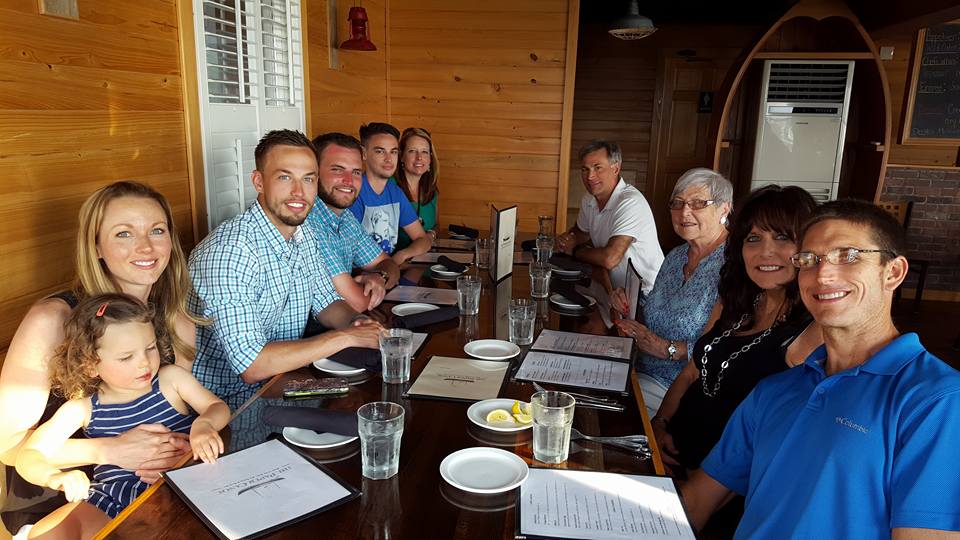 Not that Preston and Aaron were concerned. They happily sipped on Mai Tais. I'm sure that helped Preston's third-degree sunburn.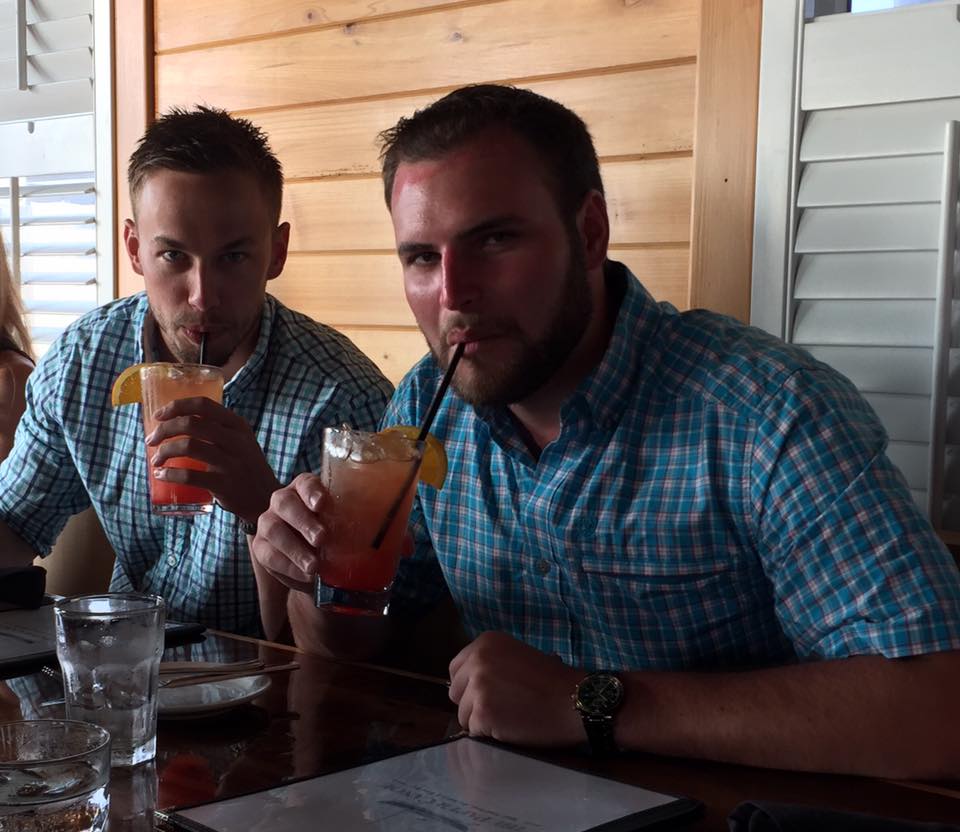 Very rarely do I receive that kind of response when I go through my multiple needs, but they delivered and never put off that they were annoyed. The food was delicious, service was outstanding, and my sea scallops were perfectly baked (per my request) and fork tender.
I ate all of my veggies first because I like to save the best for last. This drove G-Ma, sitting right next to me, insane. She eventually broke down with her fork heading towards my plate, yelling at me to eat them. I shared one of the delicacies with my dear mother since I tortured her for so long. It's the least I could do since she gave me life. If you're in the area, The Paper Canoe the choice dining spot for parties big or small. It truly is unique with quality food and outstanding service.
After dinner, we ventured outside to take a few pics where the restaurant is right along the bay. Grandma made an already beautiful sunset picture into a spectacular one.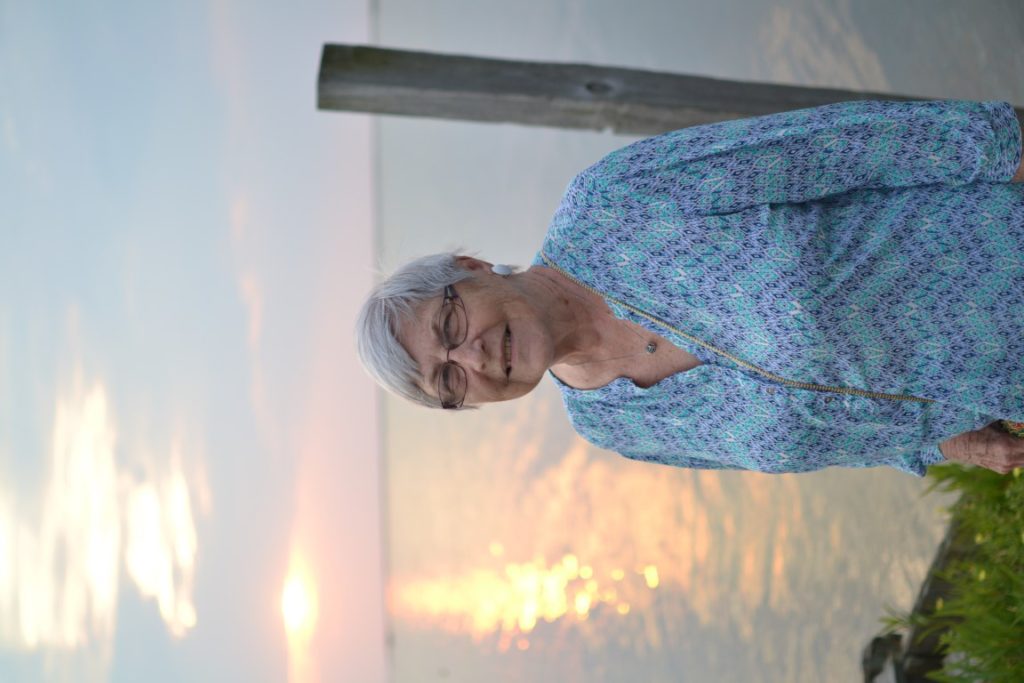 Next in line of beautiful photo captures outside of The Paper Canoe was G-Ma.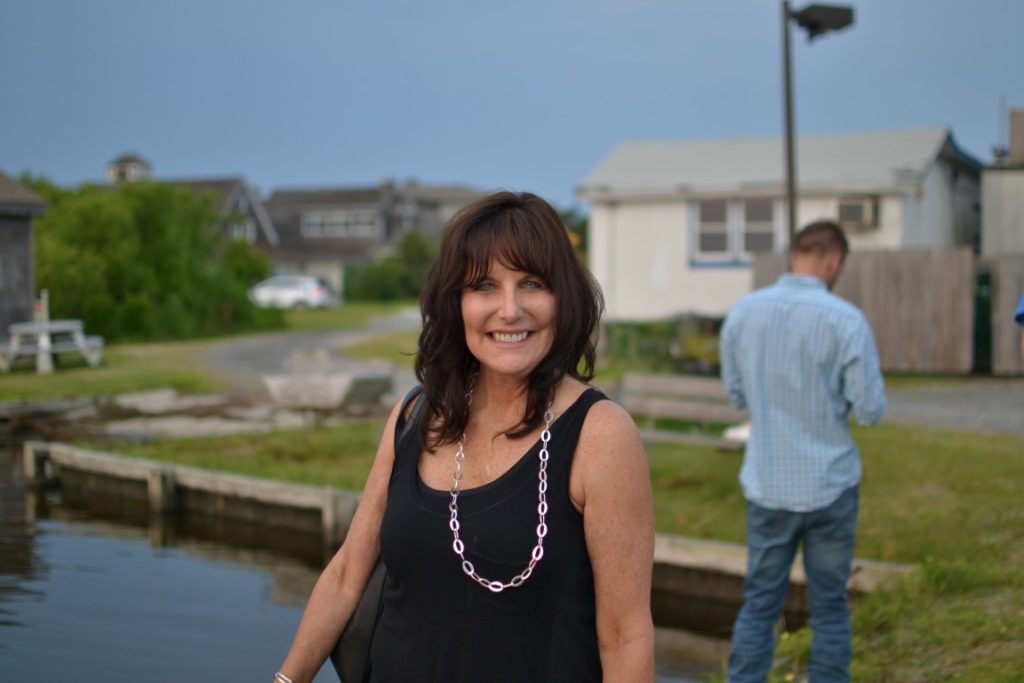 As another family took pictures beside us, I offered to play photographer if they would return the favor. They quickly accepted and put their best photographer in charge. Or so I was told.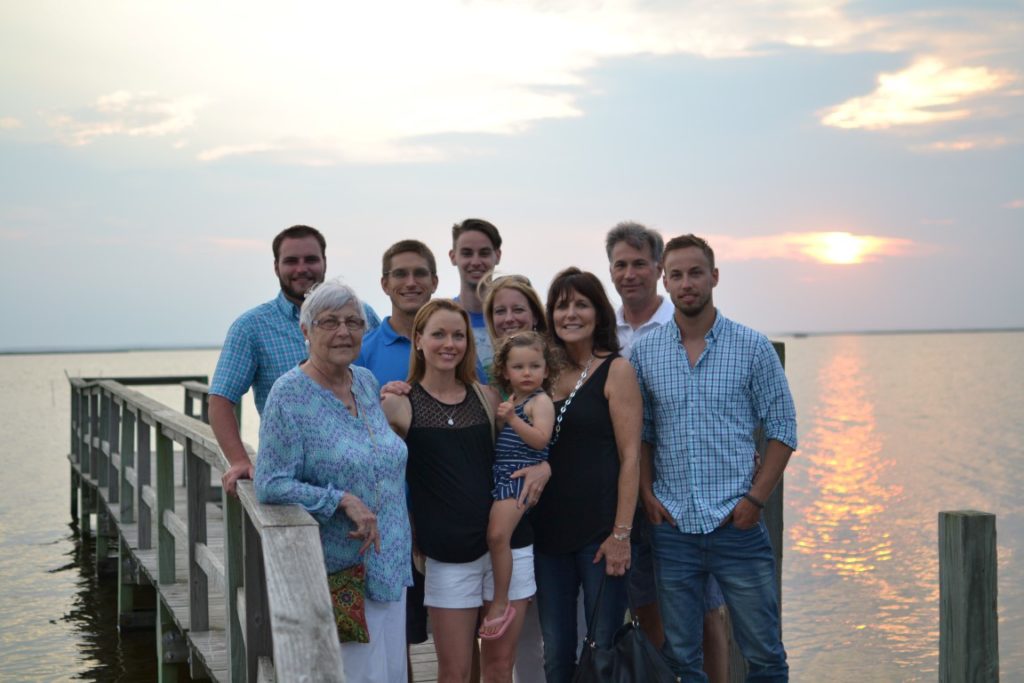 I love this shot, we're just missing my other cousin, Uncle Paul and Aunt Tammy's oldest boy, Nick, who arrived the next day. Their almost complete family photo turned out well nonetheless.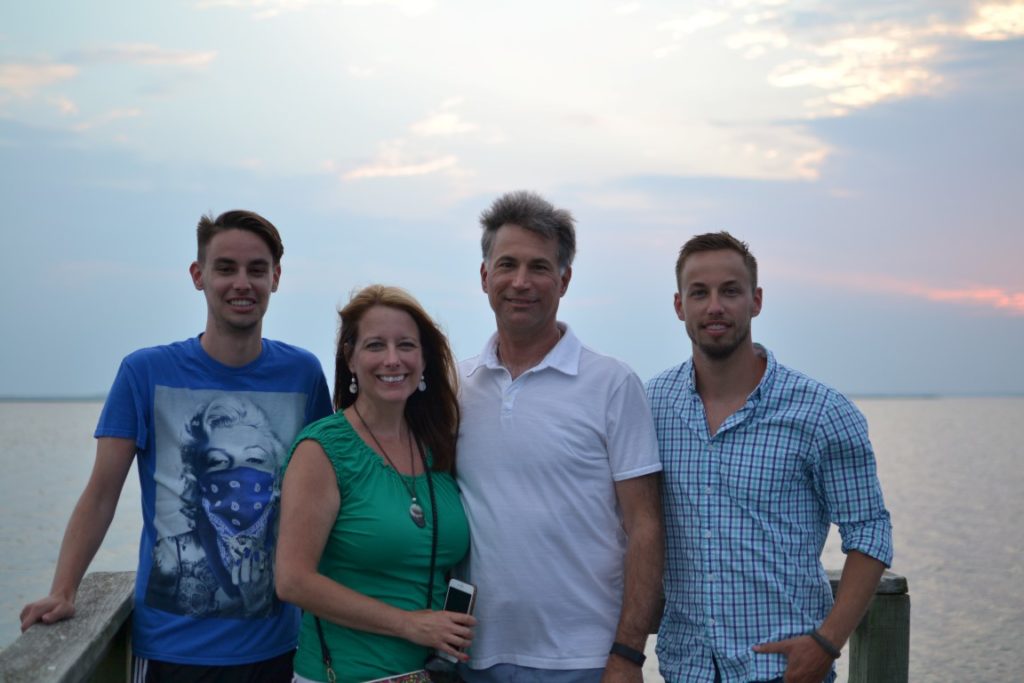 Avery was becoming restless at this point (wait, she's always restless), but we tortured her with another picture with just Mommy and Daddy.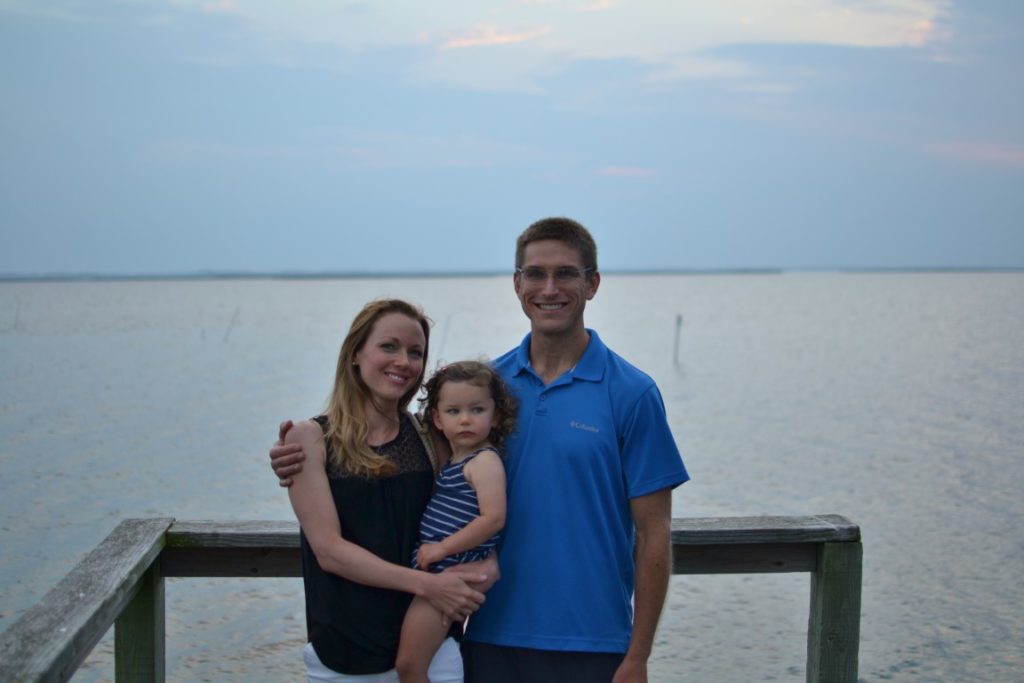 We promised her that was all and loaded up in the van to drive back to the beach house. The rest of the night was spent, surprise, at the beach house with Avery running around giving us entertainment. With my early arrisal, I was feeling tired and didn't have much longer. In preparation for yet another day at the beach (maybe more kayaking), we turned in for the night for much needed rest.