Do you find yourself stuck in a rut of eating the same thing day in and day out for weeks? If you answered "Yes", you're not alone. But I make it a point to change things up when I can. As long as it's tasty, healthy, and relatively quick to make, it's fair game! Or should I say fair fish? See what I did there?
Enter these delicious salmon cakes that are both healthy and easy to make. Using canned salmon (tuna or crab would work too) makes these a convenient weeknight main course and are perfect to make extra for the next day.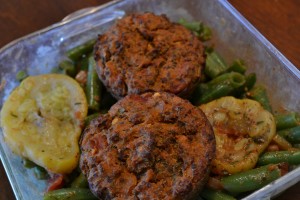 So, make a double batch of these to have dinner with the family and to take to work (or just have the next day if you stay at home like me) for a healthy and delicious lunch.
Baked Coconut Salmon Cakes
Ingredients
2 (5oz) cans wild salmon in water, drained (canned tuna or crab works too)
1/2 cup Coconut Flour (If you don't have this, rolled oats also work well)

1 tsp each of cumin, garlic powder, and onion powder

1/2 tsp cayenne

2 T Dijon mustard

2 eggs or 3 egg whites or 3 flax/chia eggs

4 T Of your favorite salsa

1 T each dried basil and dill

Pepper to taste 
Directions
Pre-heat oven to 375 degrees

Add all ingredients in a bowl and mix well to incorporate. You can also mix everything in a food processor if desired. If mixture seems too runny, add oats or coconut flour 1 tablespoon at a time until thick enough to hold together.

Scoop the mix into a lightly oiled 12 cup muffin pan (I filled 9 of the 12 cups) and bake in pre-heated oven for 25 -30 minutes, depending how toasted you want the top. It should have a crispy golden crust on top.

Remove from oven and let cool in pan for 5 to 10 minutes.

Top each cake with your favorite mustard, salsa, or even a yogurt sauce like Tzatziki; I like them plain too. Serve with steamed veggies and maybe a tasty side of quinoa curry salad.
If you love crab cakes, this is an easy and more affordable alternative to make at home. Unless you use imitation crab, but let's not go down that road, I'll save it for another post. 🙂
What's your favorite seafood?
Would you like it baked into a cake like this?