Quinoa is pretty awesome stuff. Being a staple seed in our home, I'm always looking for new and tasty ways to prepare the tiny spheres of complete protein. Since I just bought some curry powder, I figured I'd put our staple seed (quinoa is technically a seed, not a grain) to the test.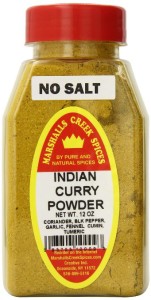 The result was healthy mix of colorful protein and veggies that's delicious hot or cold. Fluffy quinoa, a little bite from the curry, a big bite from the cayenne, and so many flavors all work magic in this simple dish.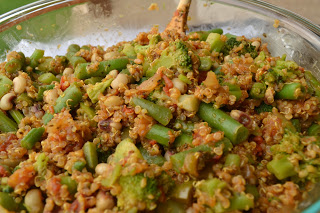 Our daughter loves quinoa, and since I usually cook it when G-Ma comes over, we've coined the term "Quinoa for G-Ma" which she repeats all day long.
Make this Curried Quinoa Salad and double the ingredients to have throughout the week for work or as a quick fridge to plate dinner.
Ingredients (serves 4):
•1 cup dry quinoa; rinsed
•3 – 4 cloves garlic, minced
•1 onion; chopped
•12oz package of frozen green beans
•10 – 12oz package of frozen chopped broccoli
1 (15 oz) can of beans; I used black-eyed peas, but you really can't go wrong with any  bean
•1 cup chicken stock
•2 tablespoons spicy brown mustard
•1 tablespoon each of curry powder, cumin, basil, cilantro
•1/2 teaspoon cayenne
•sea salt and pepper to taste
To prepare:
1. Heat non-stick sauce pan.
2. Add garlic and onion. Cook for three minutes or until soft. Add spices and let toast for 20 seconds.
3. Add vegetables, quinoa, stock and salt and pepper (if desired).
4. Cook for 20 minutes or until quinoa is fully cooked (it will be translucent).
5. Transfer to large bowl or portion out into storage containers for each person. Place in fridge to chill.
3. Whenever you're ready, take out of fridge and enjoy; no heat required!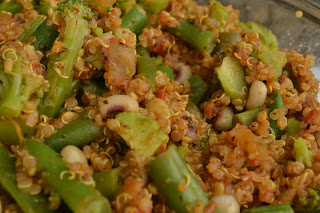 Feel free to adapt the recipe to whatever veggies, herbs, and spices you have on hand. Just a bag of frozen spinach is easy and adds tons of nutrition to make a healthy meal even healthier……and tasty too!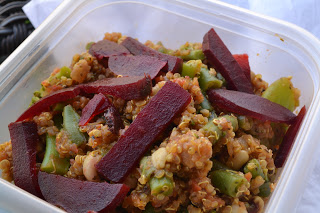 Going Mom isn't a fan, so I added sliced beets to my dish afterward. They add beautiful color, nutrition, and taste (to me)!
I love the versatility of quinoa and have cooked it as a savory dish many times as well as in coconut milk with a little vanilla stevia and of course NuttZo for a wonderfully energizing breakfast.
What food staples do you use each week?
Is it boring or something you'd never give up?
I always have yogurt and some form of squash ready to use. These things are not boring and I most certainly would never give them up!